<![if !word & !ppt & !excel & !vml]>

<![endif]>
<![if !word & !ppt & !excel & !vml]>

<![endif]>
<![if !word & !ppt & !excel & !vml]>

<![endif]>
<![if !word & !ppt & !excel & !vml]>

<![endif]>
<![if !word & !ppt & !excel & !vml]>

<![endif]>
<![if !word & !ppt & !excel & !vml]>

<![endif]>
<![if !word & !ppt & !excel & !vml]>

<![endif]>
The Author
Hedy Fuchs-Waldherr has written The World of Little Matu for young and old.
For children who, on a daily basis, are exposed to a variety of media and thus a flood of information on violence and crime, over which parents only have limited influence. She is of the firm opinion that a loving family home, and thus a carefree, happy childhood, is the most important requirement for the future of our children. The security of the family alone can provide children with the strength they need to shape their lives in a positive manner. All of life's chaos can be withstood, if there is a place to which one can always return to gather more strength – the family.
And for all cat-lovers who have a warm place in their hearts for these charismatic animals. For people who enjoy cuddling with their cats and know that it is impossible to force these wonderful animals to do anything. And who accept that their cat does not live with them, but rather, their cat allows them to live with it.
<![if !word & !ppt & !excel & !vml]>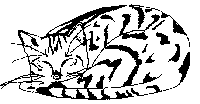 <![endif]>
Hedy Fuchs-Waldherr
Copyright © 1999-2010. All rights reserved.